31 May 2023
Ebbot becomes TOPdesk's first Gold Partner – Providing the platform with new live chat and chatbot capabilities
Ebbot, a leading provider in chat and conversational AI, becomes the first Gold Partner to TOPdesk, the renowned leader in IT service management. Being the first partner to be granted gold status, Ebbot's technology will be seamlessly integrated with the TOPdesk platform to further streamline the service management processes.
Background
Ebbot, Headquartered in Stockholm, Sweden, has established itself as an innovative force in the conversational AI space. Their conversational platform offers powerful chat tools for both human and fully automated AI support. Empowering businesses and support teams to offer a more efficient service, resulting in an exceptional user experience for the end users. Today, Ebbot's AI technology is used by organizations across multiple industries to streamline support operations and create personalized, frictionless business interactions.
TOPdesk  has cemented its position globally as a leading provider of IT service management software. Their comprehensive suite of tools for ticketing, asset management, and self-service enables organizations to optimize service delivery, streamline operations, and boost customer satisfaction. Today, TOPdesk's strong track record and market presence, has made it a trusted partner for businesses seeking to transform their service management processes.
Shared success and collaborative vision
The partnership between Ebbot and TOPdesk builds on a foundation of successful customer projects and a shared vision of the future developments within service software. With an already successful history, the two companies have witnessed the transformative power of their combined solutions first hand.
This partnership represents the next step in their joint venture to enable further value for their shared customers.
The collaboration enables businesses to benefit from the integration, by leveraging Ebbot's conversational AI capabilities and TOPdesk's robust service management software. Resulting in an efficient, and personalized service experience for customers that opt to install the integration.
"It's a great honor to have become TOPdesk's first gold partner. We at Ebbot are incredibly excited for the opportunity this presents and the potential this partnership brings. Our offerings align perfectly to create a seamless and efficient experience, for both end users and operators. Looking forward to making a lasting impact in the industry together!", says Anders Clarin, CEO of Ebbot.
Wolter Smit, CEO of TOPdesk, says that "at TOPdesk, we're always looking for innovative ways to improve our customers' experience of our solution, whether that's within our own tool or with partners like Ebbot. We're thrilled to offer the advantages of Ebbot's offerings to our customers and build on our solid partnership."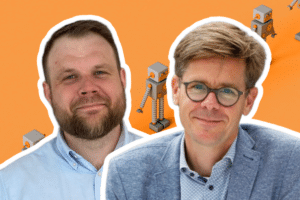 The launch and future plans
Starting June 1st, TOPdesk users will have the opportunity to integrate Ebbot's Smart Live Chat and AI Chatbot with their existing service management workflows. Allowing TOPdesk users to automate routine tasks, resolve queries with speed and accuracy, and deliver personalized support experiences.
As the partnership progresses, Ebbot and TOPdesk plan to explore new avenues for innovation and collaboration. Their joint commitment to enhancing service management and customer engagement aims to drive the development of new groundbreaking solutions that meet the evolving needs of businesses in today's digital landscape.
Learn more
To learn more about the TOPdesk Ebbot integration offering both chat and AI chatbot capabilities in the TOPdesk platform, we invite you to visit the TOPdesk Marketplace.