16 Mar 2021
Integrate social messaging channels with TOPdesk
Social media plays a very important role in today's life. But it's also very important for customer contact. Want to provide the best customer service? Communicate with customers via WhatsApp, Messenger, Webchat and other messaging channels and integrate these channels with TOPdesk.
It's possible with the Saysimple Customer Contact Platform by Saysimple, TOPdesk partner and specialist in the field of chatbot software and customer service automation.
The Saysimple Customer Contact Platform helps organizations efficiently organize customer contact and increase their customer satisfaction. Address customers through their preferred messaging channel, route incoming contact requests to the right agent, monitor results and KPIs, and build valuable customer profiles.
Integration with TOPdesk
By integrating the Platform with TOPdesk, all contact requests are immediately created as an incident in TOPdesk. You can also respond directly from the incident to the WhatsApp, Facebook, or Twitter user. Simple and efficient for the best customer experience!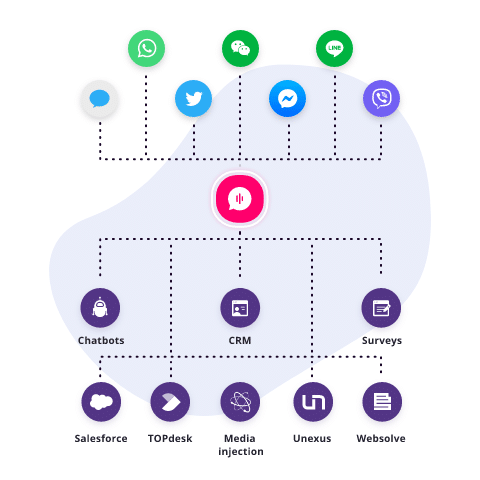 Would you like to know more about the Platform?
Take a look at our Marketplace page or the SaySimple website.