Getting Knowledge Management right has always been tricky. It's always important, but never urgent. Knowledge Centered Service (KCS)* has lowered the threshold for getting started with Knowledge Management, but still many organizations struggle with implementing it. We want to solve this.
5 steps to implement KCS
Based on my experience with lots of KCS implementations, my colleagues and I have made a 5-step plan to implement KCS for your team. We tried our best to make it as simple and easy to implement as possible. In this blog, I'll explain how to lay all the groundwork for implementing KCS. In part two, I will go into training your team and monitoring your progress.
Step 1: Set your goals
Before you embark on your KCS journey, let's start with setting some project goals. Write your goals on post-its together with your project group and prioritize them. For your most important goals, you'll determine benchmarks and  set up reports at a later stage.
Need some inspiration to get started? Here are 6 goals we often hear:
Reduce the call duration
Do the same work with fewer people
Improve the quality of service
Make your customers more self-reliant
Shorten the training period for new staff
Make it easier to transfer work
Every service desk employee has valuable knowledge to share. By sharing the knowledge in a knowledge item, you help your colleagues process calls faster and better.
Step 2: Determine the benchmark
Are your goals all set? Then it's time to determine your benchmarks. The benchmark, or zero measurement, lets you discover how you're currently doing and where there's room for improvement. Make sure your benchmarks are based on a good representation of the types of calls you get. For instance, try using all calls you received last year. For each goal you have set in step 1, you determine the baseline:
Self-reliance: Do you get a lot of the same calls from different customers? Create a knowledge item for the issue and compare the number of related calls before and after you publish your knowledge item.
Transfer fewer calls from one team to the other: How many calls get transferred from first to second line? Check the numbers and see if they drop when you make more knowledge accessible to first-line operators.
Fewer calls: Look at the average number of calls per month for each operator team.
Shorten average duration: Look at the average duration per call for each operator team. Keep in mind that the duration will increase after the initial introduction of KCS, because you'll need time to create knowledge items for each call you receive.
Improved customer experience: If you want to measure your customer satisfaction, take a look at the score of your latest customer satisfaction measurement. Haven't measured your customer satisfaction yet? Get a survey out as soon as possible. Repeat the survey a while after you've implemented KCS, when you should start seeing results. Do your users already rate how well you've handled their calls? Check your average score on processing calls.
Step 3: Design your KCS process
Next up, determine which process you will follow. Combine your current process with the KCS best practices. There is a standard process for KCS, but that doesn't mean that you have to follow that process to the letter. Take a look at the KCS process and think about whether you want to make any adjustments. For instance: are there elements from your current notification process that you'd like to incorporate? Adjust the KCS process to suit your organization.
Step 4: Make a template for knowledge items
Make it easy for your team to write good knowledge items: create a template for knowledge items. Templates help your team to create knowledge items more quickly, and you ensure that they register all the necessary information.
How to create a knowledge item template or form? Below you see an example of a filled-in knowledge item. When writing a knowledge item, make sure that you always use your customer's language. For example, write 'call' instead of 'incident'.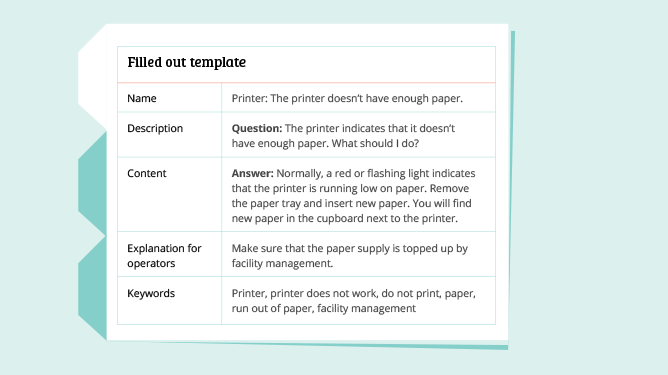 Step 5. Set up your service management tool
Every tool is different, but there are three important steps to take with every tool:
Make the knowledge base accessible to the entire team.
Why? Every service desk employee has knowledge that is valuable to share. By sharing the knowledge in a knowledge item, you help your colleagues process calls faster and better.
Allow users to leave a response.
Feedback on your knowledge items is vital for improving and maintaining your knowledge base. For instance: let customers indicate whether they found your knowledge item useful, and ask them to leave a comment .
Set up reports.
The right reports will help you stay on track with the goals you set. The most important report: how many calls do you solve per month with a knowledge item? This is also the moment to set up reports for the goals you defined in step 1.
Next up: training & coaching your team
You've done all the groundwork for implementing KCS. Once you're done read up on everything you need to know about how to successfully train and coach your team in adopting KCS.
Or check out our Knowledge Management e-book. It contains all kinds of material to help you take your Knowledge Management to the next level. A complete KCS implementation guide, necessary background information on KCS, and a time-saving calculator that helps you make the business case for adopting KCS.